Download a copy of the free report to learn how to drive growth in today's Omnichannel-driven world.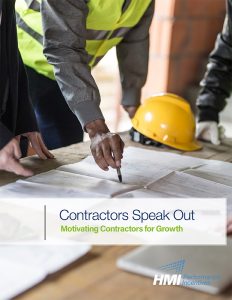 In a recent and extensive survey out to contractors (with over 750 responses from HVAC, Landscaping, Roofing, and more), HMI Performance Incentives found answers to questions about what motivates contractor buying behaviors. 
You'll learn:  
What's causing "channel erosion", or contractors spending their money outside traditional distributors and to what extent. 
What causes contractors to purchase, on average, between three distributors.  
The growing utilization of eCommerce and where to focus efforts. 
How People (especially inside sales reps) and Process are big differentiators for distributors. 
How effective incentives and awards are at influencing purchasing decisions. 
How often and how much contractors spend on marketing and why.