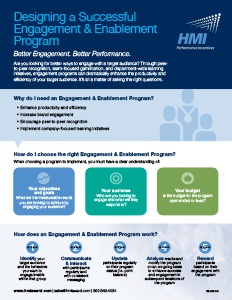 Are you looking for better ways to engage with a target audience?
Through peer-to-peer recognition, team-focused gamification, and department-wide learning initiatives, engagement programs can dramatically enhance the productivity and efficiency of your target audience. It's all a matter of asking the right questions.
Why do I need an Engagement & Enablement Program?
Enhance productivity and efficiency
Increase brand engagement
Encourage peer-to-peer recognition
Implement company-focused learning initiatives
How do I choose the right Engagement & Enablement Program?
When choosing a program to implement, you must have a clear understanding of:
Your objectives and goals — What are the measureable results you are looking to achieve by engaging your audience?
Your audience — Who are you looking to engage and what will they respond to?
Your budget — Is the budget for the engagement program open ended or fixed?
To find out more about how Engagement & Enablement programs work and what the necessary components for a successful program are, see our data sheet:
Designing a Successful Engagement & Enablement Program