Estimated reading time: 11 minutes
Do you ever get that feeling like you've just said something and no one in the room really got it but they're all nodding yes? Maybe it's the way you phrased it, or maybe they're thinking, "that's way too complicated. I won't remember that." For many distributors, getting your salespeople to adopt Customer Relationship Management (CRM) can often result in this same feeling.
Although CRM as we know it was arguably invented back in the 90s, still only about 66% of distributors are adding it into their strategy. What that likely means is that you may fall into one of these buckets.
You may have never had a CRM tool, in which case…

Each salesperson has a list of contacts (in print or digital form) that they maintain on their own or at your discretion. This might be a field sales rep looking to retain business from "A" customers or going after new business from big prospects.
You're moving to an entirely different and much more complex system, which will mean a lot of behavior modification for your team.

You may be changing to CRM because a prior system doesn't fit your growing need. In this case…

Your current system may not have any automation, and you want more tech power behind you.
Your current system may not integrate with emerging tech, such as proton.ai, which may help you and your reps be more efficient and target the right time buyers.
Or it's simply outdated, and you need a substantial refresh. If you haven't read our last article about What Wholesale Distributors Can Do with a CRM Tool, we'd recommend starting there.
In both buckets, adoption is key. Let's walk through some steps you'll want to take to get your salespeople to adopt your CRM tool.
Adoption and Other Goals:
For adopting CRM with a sales team, it's important to first start with what you want to achieve and at what timeframe.
One of the best parts about CRM tools is that they help with tracking, reporting, and goal setting, which is where you'll want to start. Some common goals when getting salespeople to adopt CRM could be:
Increase adoption rate by 60%
Improve CRM skills among the sales team
Increase number of contacts in the system by 5% YoY
Get the tool to be thought of as an aid, not a hinderance
Increase knowledge on buyers
Next, think through what key behaviors are going to lead you to these goals. For instance, a few of them might be:
Regularly input existing customers into the system
Enter in demographic data: age, job title, preferred reach out method
Upload target prospects: focus on these to maximize greatest potential early
Figure out monetary values: what's this contact's frequency or recency from you?
There are a lot of ways that you can track these metrics, both manually and potentially in the system itself. If you set up your system with tasks, you can assign tasks that help your sales team build out both their skills in the CRM and the contacts you need data on.
In the image below, I can see who's assigned to what task, when it's due, if they're overdue, and more in our CRM because I'm a super admin. This would allow you to use tasks completed to measure both skill progression and adoption rate.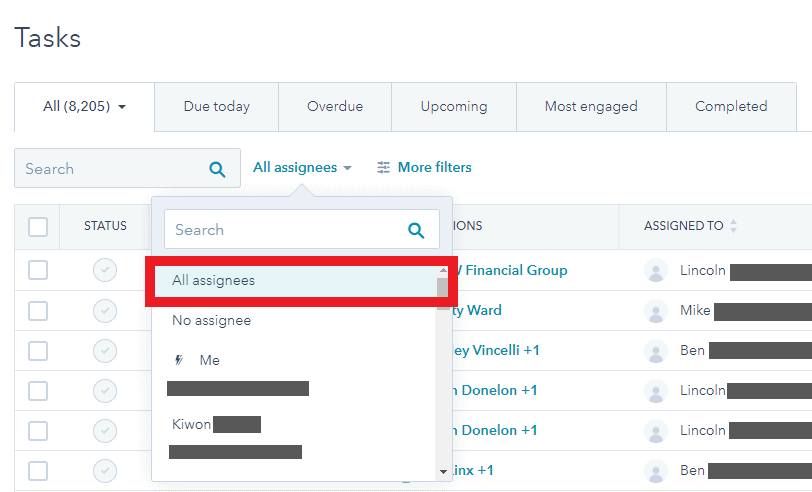 Pro Tip: If you have the ability, make a trackable live list right when you turn on your CRM tool of all companies and all contacts within the system. This list should grow when you add people and companies in. That way, when tracking your growth in the platform, you'll have a quick, clear, and automated way. Example below: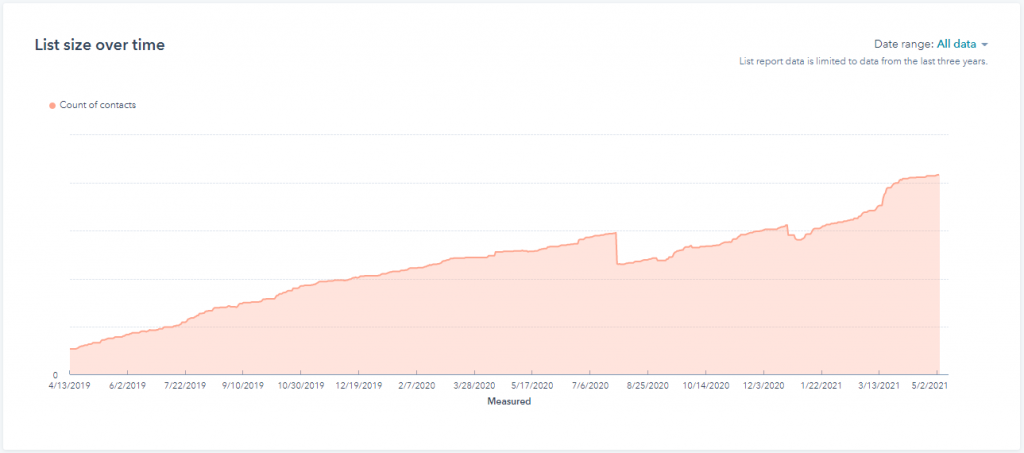 Building this list will give you a clear idea of the pattern of growth and where potential slowdowns might occur.
Use Behavioral Economics to Nudge Behaviors
Equally as important as the what is the how of having your salespeople adopt your CRM. Now that we've got our behaviors and goals, we should figure out our strategy. But first, a little bit on human motivation. It's key for making adoption a reality.
Everyone is motivated in a different way and understanding how to inspire change among your team is going to be one of the biggest assets you'll have.
For a lot of sales teams, competition is a key motivator. Some companies can see a massive lift while implementing competitive gamification into their sales training (230% lift for example). This makes sense, since 69% of people state that recognition makes them work harder. Making sure the reward for participating is as clear as the recognition among peers.
Behavioral economics can also teach us a few key things about motivation. Let's look at a few concepts that apply here:
Framing: Being Hyper Aware of the Impact of Word Choice.
Above, I had mentioned that maybe your sales team is thinking CRMs are too much work. Is that because you're loading them up with too many new things all at once? In order to not see it as a hinderance, we'll need to make our rollout of the CRM ultra-consumable.
Loss Aversion: Treasuring What We Already Have
People would rather hold onto a certainty, say $500, than gamble on a chance to win more, maybe $1,000. Using this, you can gain upwards of 40% more engagement.  
FOMO: Fear of Missing Out
Although commonly associated with teenagers not wanting to miss out on what their friends are doing, FOMO has a real psychological effect on our decisions and can lead to negative emotions.
If you want to learn more about behavioral economics, download the Incentive Research Foundation's "Nudge Guide" here.
Now Apply Everything into Your Adoption Strategy
The most important part of this strategy is that it helps with the efficiency of your sales team while also proving your business cases: achieving those desired behaviors while achieving your goals. You'll want to break the strategy down into three main parts. I'm going to show you two ways to boost your adoption through each phase: a down and dirty, and a full-blown incentive points program.
I'll use a visual to help us out: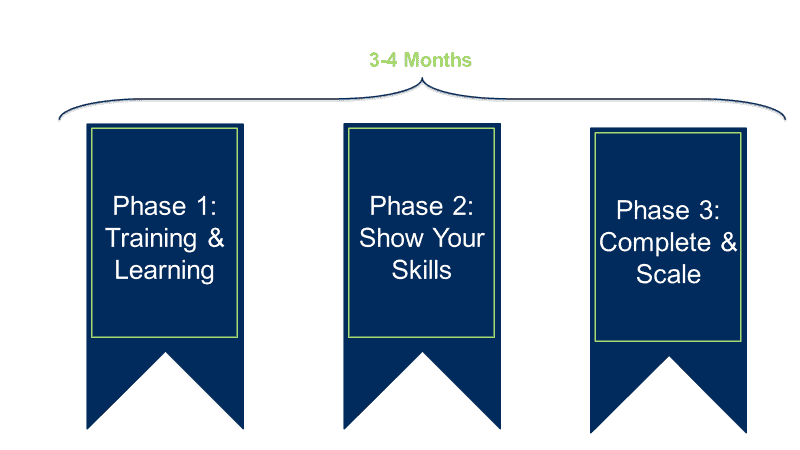 Phase 1: Training and Learning
Start with training for the tool itself. This phase should focus on learning the ins and outs of the tool, setting up an account, etc. Most systems will have some sort of training built in, but you can always use a tool like Vidyard or Soapbox to record yourself doing walkthroughs of the things you need from your team.
           Down and Dirty
Add some friendly competition to the training process. Here are a few ideas to get everyone involved and competing internally:
First person to complete all the trainings gets a prize like free lunch.
First person to create and finish setting up their account in the new system gets a gift card to a retailer of their choice.
           Points Strategy
With a points program to enforce adoption the only way you earn points toward some merchandise rewards would be to set up an account in the platform. After that, they'll start earning points for each training they get. If there's quizzes to take for them, they'll earn points based on their pass or fail.
Behavioral Economics Tip: Framing is big here. Training can often be looked at as a distraction from your salespeople's all-important jobs of selling. Adding in some friendly competition makes the often-monotonous task of training into a fun way win some prizes against your team and quicken your salespeople adopting your CRM.  
CRM Pro Tip: It's important as well if your system doesn't have a solid customer service line, that you set someone up as a subject matter expert. One person should be able to field and answer questions that might come up.
Marketing Tip: Communication is key at the beginning here! Make sure your communicating frequently and efficiently, whether that's a full-blown campaign or a weekly update email.
Phase 2: Show Your Skills
The show your skills phase is all about applying the knowledge they gained through learning about the tool. For instance, you can have them build out contacts and companies on their own. A great place to start will be their current customers. You probably know a lot about these accounts already and so they're good practice for how to build out a prospect when they come in.
Remember those tasks we talked about? This is exactly where you'll want to go with those. With a good automation tool, you can even notify them if they've missed a certain property you wanted filled out. Having them live it every day will help those salespeople adopt your CRM even faster.
Here's an example of how that looks in HubSpot: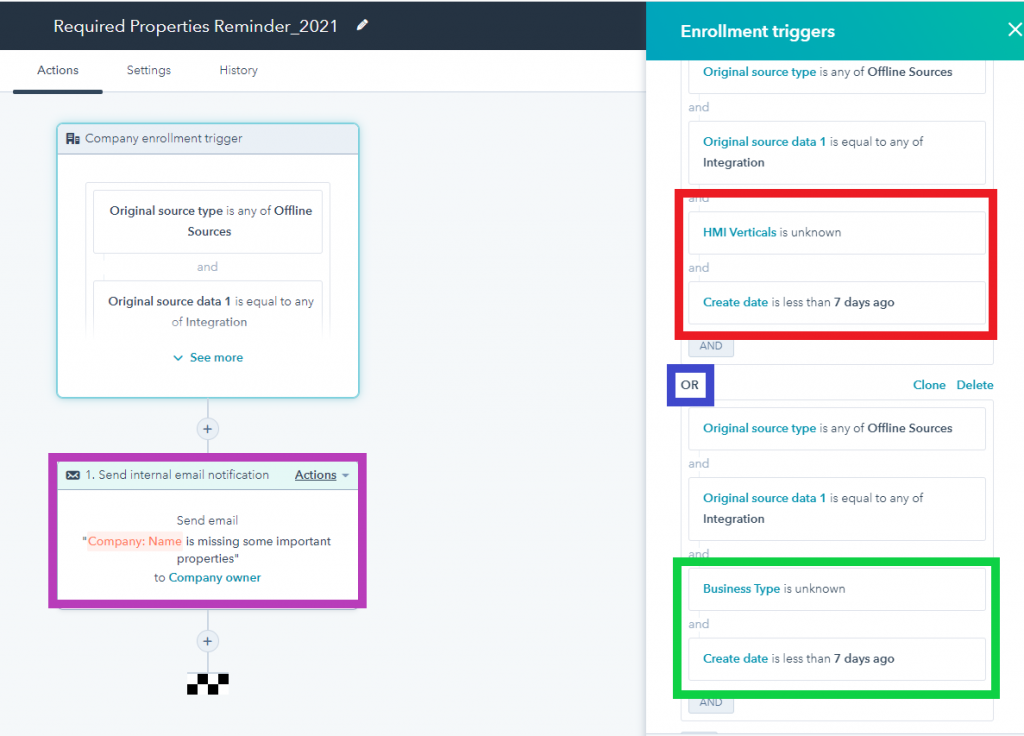 The red square represents a missing vertical (or what most people might call industry) and a 7-day grace period to fill it out. The blue box tells my automation system that even if the company has the vertical property, I also need the company to have Business Type (another way we segment industry).
Finally, the purple box is the notification to the company owner to fill out the necessary information. It's simple automated tricks like this that can make your data that much cleaner and your salespeople that much more effective.
           Down and Dirty
Run a scavenger hunt around the CRM. Maybe you break it out by team, inside sales vs. field sales for example. First one to do all the following wins an outing for the team:  
Upload all target accounts
Ensure all contact emails are up to date
Update most recent purchase order size
Send an internal email to you
Complete a task
           Points Strategy
While the above is still viable to do with a points program in place, you have the added benefit of adding points to their total for winning or even for completing each task successfully. At this point, you could award for every new contact or company entered into the system as well, which would act as a more long-term strategy than running contests back to back.
Incentive Pro Tip: Team incentives are a great way to increase engagement and learning because while some may be slower on the uptake, those who are more advanced can help them through it while also being rewarded for winning.
Behavioral Economics Tip: Here's where FOMO comes in. Anyone missing out on the CRM also misses out on the competitions, points, rewards. That won't feel good.
Phase 3: Complete & Scale
An important aspect of scaling adoption is to change both the strategy and the incentives to as the knowledge about the tool grows. Part of your strategy may even be to eventually phase out the incentive aspect of your training, at least for the group that was around when it was implemented.
Keep in mind that as skills develop, there may still be laggards to learning. Don't leave them behind. Continue to host scavenger hunts for the things they need to work on to keep them motivated.  
            Down and Dirty
One of the most impactful things you can do during this phase is to showcase specific business issues that the CRM has fixed. One thing you can do during Phase 3 is reward sales team members by showcasing their accomplishments while using the tool to the rest of the team. A little recognition always goes a long way.
           Points Strategy
On top of now rewarding for completion of certain tasks (think back to more complex versions of your beginning desired behaviors) in the CRM, you can transition your reward pay out for success in selling through the CRM. For instance, a sale documented from beginning to end with the CRM can reward 2x over a sale made without the CRM.
At this point, your sales incentive point strategy becomes more traditional, and you begin to reward for more sales activities just with an added bonus.
Behavioral Economics Tip: Loss Aversion can be a powerful tool but can also be the downfall of an incentive strategy. Make sure if you phase out or loosen up a bit on the rewards you put out to your team that you do so slowly or replace it with other more down and dirty tactics so that you don't make them feel like they're losing something.
CRM Pro Tip: Once all of the important accounts or prospects are uploading into the CRM, flex your team's new muscles by having them do smaller accounts and see how much info you have or can gather on them, opening up paths for better selling and marketing.
Conclusion
Once you've scaled your learning, training, utilization, and incentives, the only thing left to do is rinse and repeat for anyone new coming in. With the whole system in place, it should be easy to onboard people into your new system and get those salespeople to adopt your CRM.
There will always be ways to improve, so use the same framework above to roll out new initiatives within the CRM! And if you need any help standing something like this up, you can always speak to one of our experts by booking a meeting!