Many manufacturers these days are running customer acquisition campaigns, using data capture to better target their end-users. One way that manufacturers are going about this is with incentive programs.
Makes sense, right? How better to get a contractor's information than to give him or her something for it? The problem is, these programs can end up circumventing distributor channels in order to gain direct access to the customers at the end of the channel.
While some manufacturers may not have any choice in the matter, we've found that it can be much more beneficial to include all levels of the channel when organizing an incentive program designed to get manufacturers more information on their end-users.
Here's Why.
If you're a manufacturer with a well-established channel that your products are constantly flowing through, creating a program that goes around the middle man to focus on direct customer acquisition may cause some frustration from your distributors. Understandably so.
From their point of view, they are a pivotal aspect of the channel. They have infrastructures in place for the distribution and shipping of your product flow after all. Distributors who catch wind of such a program may be concerned that they're going to be cut out.
The reality of this situation is that it can actually be a lot harder to skip the distributor in a program like this. It can also be more expensive because you're having to collect the data yourself rather than having it supplied to you by your distributor.
What behaviors stand out to you about your #1 customer? Learn what you can do to make more #1 customers by downloading our ebook, B2B Customer Loyalty and the Share of Why
So instead, you'll want to partner with your distributors. Many of these partners may go as far as to run the customer acquisition promotion on your behalf. Of course, you'll want to set up market development funds (MDF) and guidelines, but it could be a lot easier than running a promotion yourself to contractors you don't interact with much.
However, there are exceptions. Some manufacturers may not have a well-established channel or may not have the right technology to capture the correct information, so they have to start from the ground up.
Let's take a look at the difference between going around distributors and partnering with them looks like.
Here Are the Differences.
Ground Zero
For a manufacturer with a direct go-to-market strategy, getting off the ground with a partner channel can be a little difficult. It's very achievable, though, so don't get discouraged if this is you.
You'll be dealing with sellers who may not be familiar with your brand or which products you sell. If they've sold your products before, maybe it's because of the quality or the price.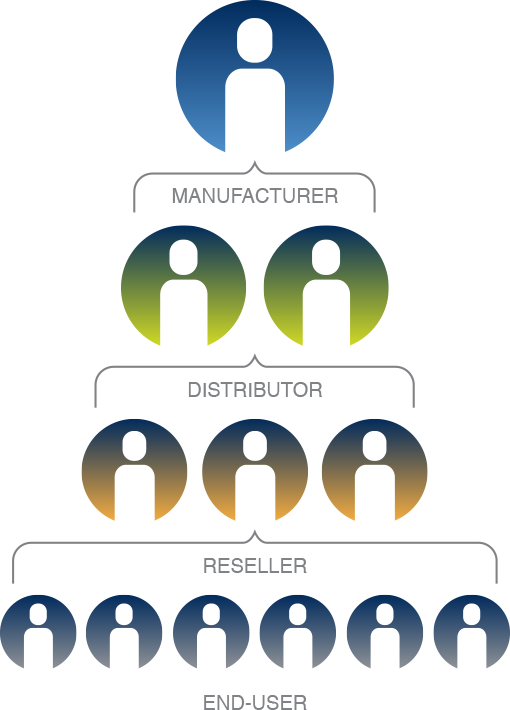 The program you put together should reward your customers and your new partners for enrolling and give them a benefit for selling and buying after or up to a number of days before enrolling. This could be something like submitting their invoices for points or a chance to win a prize in a giveaway.
Once you've locked in prizing and operations, your job is to really market the program.
Your lack of current data means that the marketing budget will have to be high. There will need to be a lot of advertisements, coop or MDF funds, and cooperative marketing through your new distributor partnerships.
What your marketing needs to do is push a few things: the prizing, the benefits of being in the program, i.e. rewards for buying your products, but most importantly, what value working with you, your distributors, and your product brings them. 
We often like to say that an incentive program is the cherry on the cheesecake. It's never going to be the only reason people continue to do business with you, but it's what people see and get excited about. 
Market the program in this way, and you'll be swimming in contractor data. You can take a look at one of our case studies to get some deeper ideas about how to run a program with no starting customer data, here. 
Well-Established
On the other hand, there are manufacturers who have a solid distributor channel in place, the technology to acquire such data, or already have a solid handle on customer data but would like to increase their engagement with this audience.
This type of program, often times more successful in it's channel relations activities, should also reward but the distributor- and dealer-level personnel for selling as well as the contractors for enrolling and buying products.
An example of this would be encouraging the dealer and distributor personnel to enroll contractors into the program. When they do this, that information is tracked, and the person responsible for enrolling the contractor wins rewards similar to the contractor.
This could mean a higher prize budget, but lower marketing budget than the former program type, as you won't need to do as much training on your products to a new audience. Even with a lowered marketing budget, every great program needs a solid marketing campaign.
One way to lower the prize budget, however, is to work off a ratio rewarding system. For instance, if you would like to reward contractors with points for their enrollment and purchases, the channel partners could receive 10-20% of the points for products claimed by their respective contractors.
If you're looking for more information about this, we also have an award-winning example of how this kind of program can play out. Learn more here. 
Conclusion
There are different ways to go about customer acquisition programs with incentives. Whichever way you hack it, success can be found. All it takes is the know-how to implement the right methods.
Photo Credit: rawpixel on Unsplash